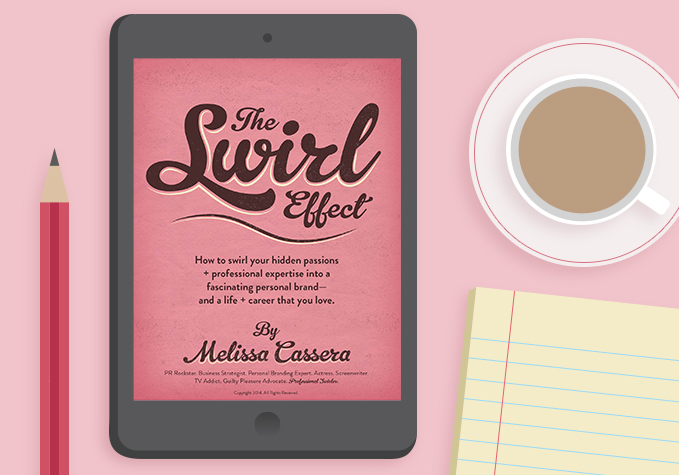 Ebooks are in the brisk winter air! That's great for me, because it means I can stay warm doing one of my favorite things—designing them. Here are a few highlights.
The Swirl Effect
By Melissa Cassera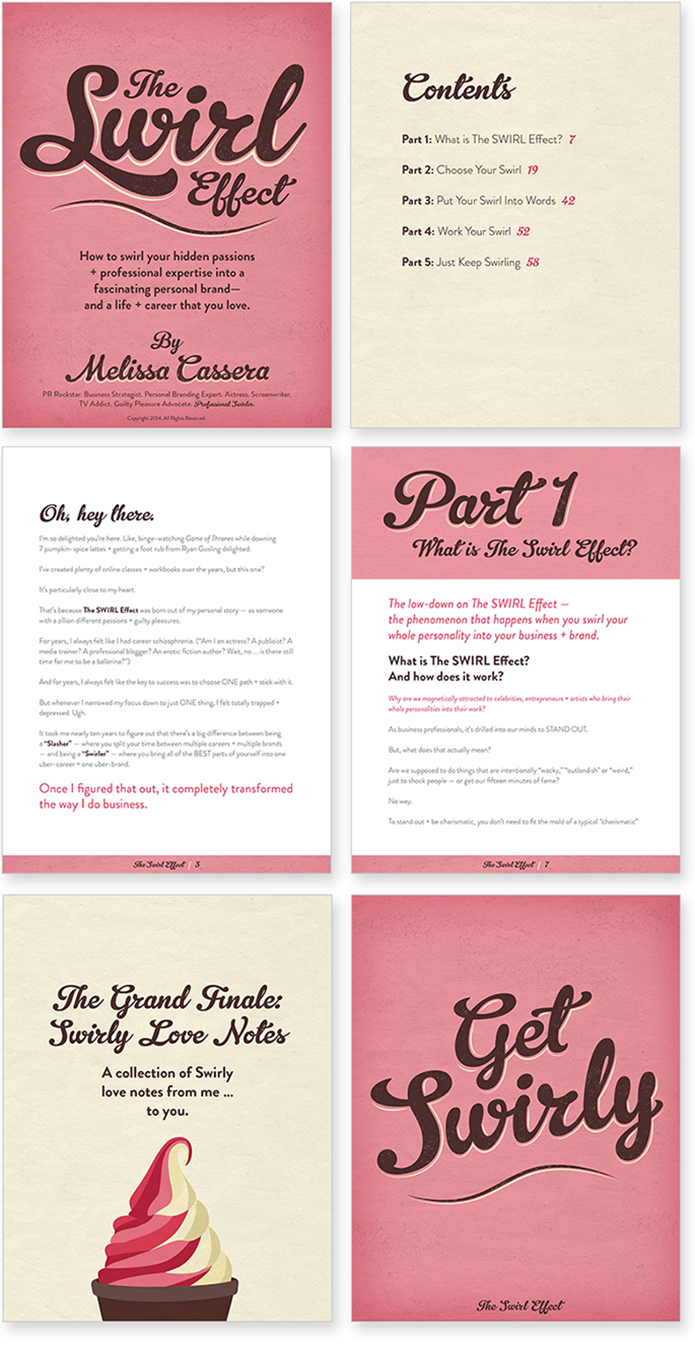 If you're trying to craft a memorable personal brand but coming up short, Melissa's book is for you. She teaches you how to swirl your passions, guilty pleasures and professional cred into one juicy business. I had a vintage ice cream shop in mind when I set the style for the book. I wanted the strawberry, vanilla and chocolate accents to mix with a clean and accessible layout.
Get the full book here.
Soul Sessions
By Danielle Dowling

Soul Sessions is a 4-week course that helps you fine tune your goals and achieve greater joy. Included in the book are valuable lessons about setting boundaries, shushing naysayers, carving out time for important work, and more. Any driven, creative lady should find at least a few gems to take away from this book. Never mind that I found myself up at 2 am laying out a lesson on how you shouldn't work late because it makes you too tired to achieve your dreams. Yes, we can all improve.
Danielle is a longtime client, so we already had a color palette and font system established. I introduced an energetic brush font into the mix that I cropped and set at an angle. This gave each page an extra pow and set it apart from other brand materials.
Soul Sessions will be available in May at Danielle-Dowling.com. We'll be launching it along with a shiny new site that's in the works now!
The Late Bloomer Revolution Almanac
By Michelle DeSpain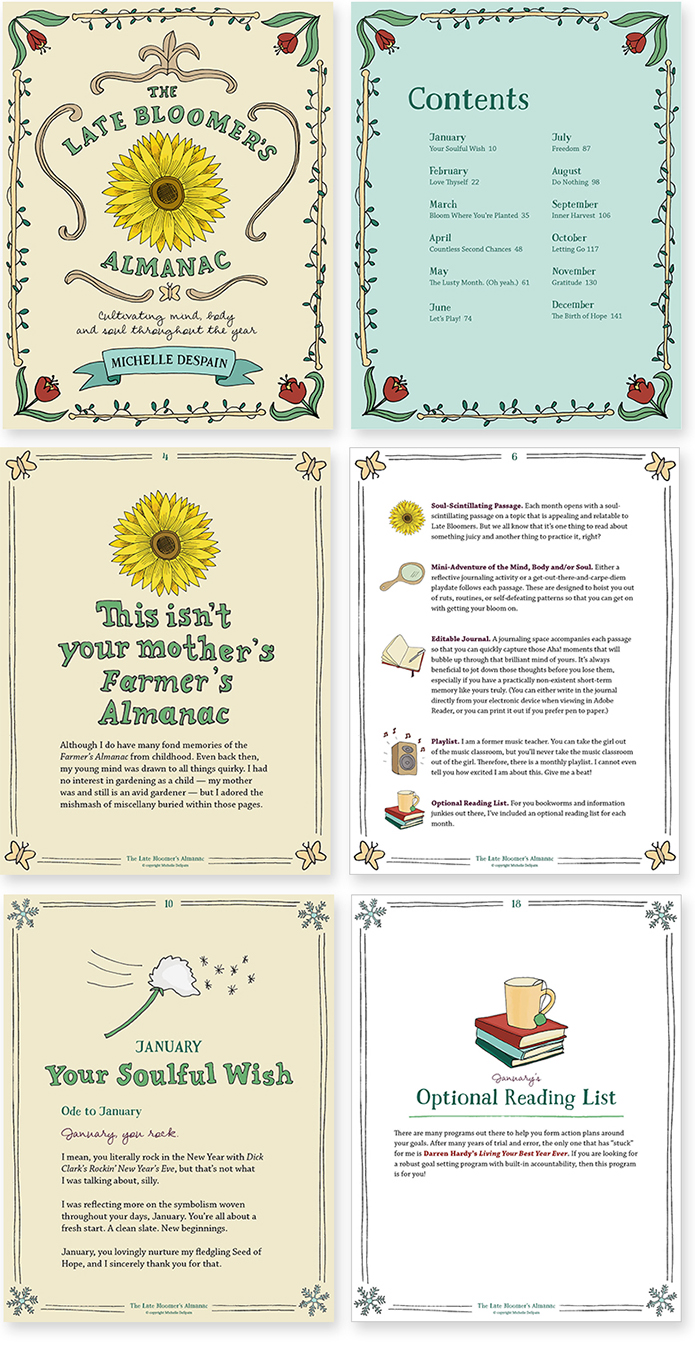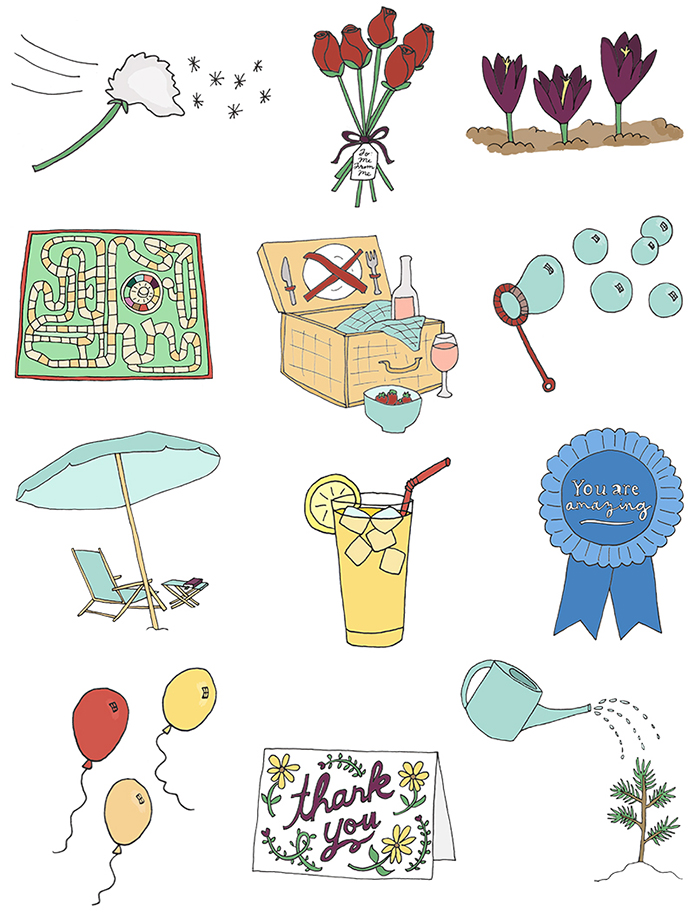 The Late Bloomer Revolution "Almanac" was Michelle's brilliant idea for an ebook that fits into the whimsical, botanical world we created with her brand identity and new website. The Almanac is a guide to cultivating mind body and soul throughout the year. Each month includes a lesson, a reflection space, a playlist, reading list and a seasonal recipe. Michelle and I embraced our former teacher selves and created thematically appropriate borders for each month. A snowflake icon for January, a heart for February, sunglasses for July, etc. I also created lighthearted spot illustrations to accompany the introductory passage of each month.
Get all 12 months of sweet but sound advice here.
DIY Voice and Copy
By Ana Ottman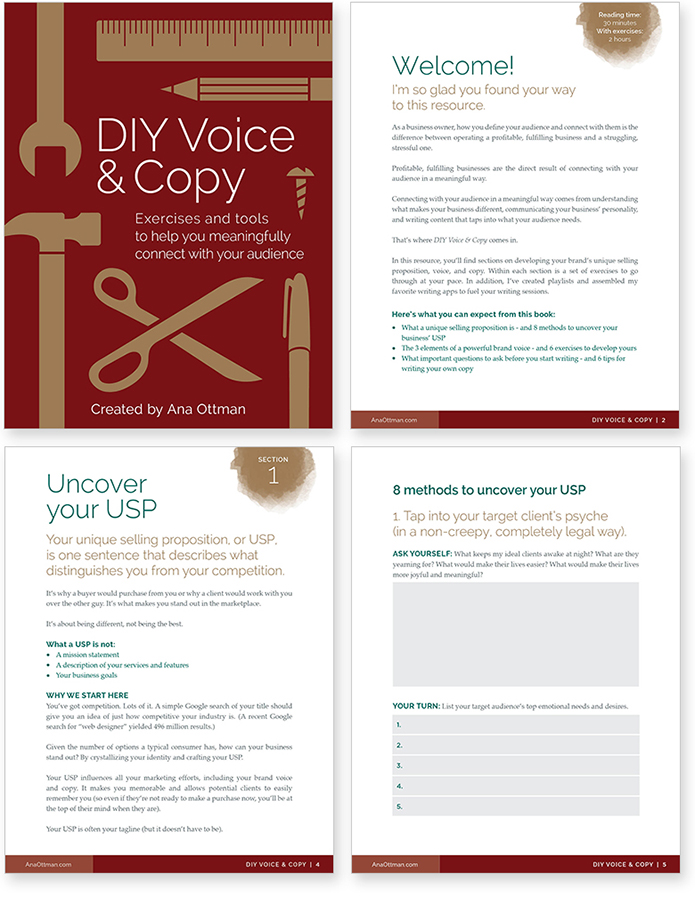 DIY Voice and Copy is a handy tool that teaches you how to create a unique and compelling voice for your brand. The easy-to-follow exercises are digestible but powerful. Ana gives trenchant advice for any small business owner who strives to be distinct but authentic. One of my favorite tips? Don't pretend you're a giant company by using plural language when you're really just a business of one. That's a pet peeve of mine, so thank you!
The design of the book mimics Ana's elegant and straightforward tone. We followed the color palette and font styles of her site, but added a few touches like the organic silhouette of her logo as a mark to open new sections.
Get your copy here.